SEAT Leon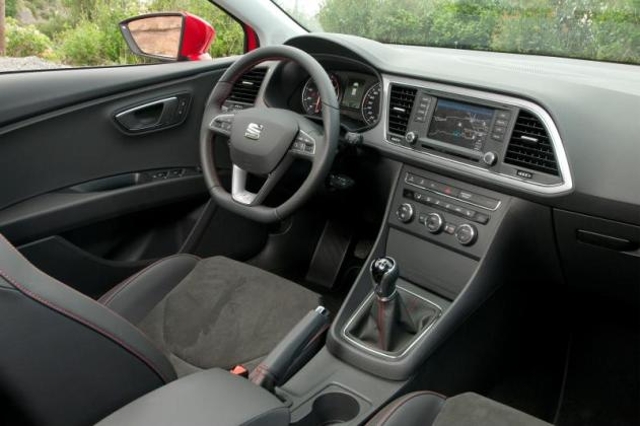 Major improvements in all areas should make the Leon a popular choice, says Steve Moody.
SECTOR: Family hatchback PRICE: €18,850 – €26,910 (approx) FUEL: 3.8 – 6.0l/100km CO2: 99 – 139g/km
The SEAT Leon has perhaps had the unfortunate honour of being the car company drivers choose if they can't afford a Golf, but it has nevertheless been a huge success story for the brand. In 2011, total Leon sales reached 77,075 and over a million have been sold since the first model was launched in 1999. With the latest model, SEAT may well have a car that steps out of the shadow of its illustrious relation.
Like the recently launched Golf, it uses the new MQB architecture, and shares half of its structural, mechanical and electrical components with the Volkswagen. The wheelbase has been elongated marginally despite the car being shorter overall.
Thanks to its advanced construction and lightweight materials, overall weight has been reduced by 90kg compared with the previous version. From a design perspective it looks like a large Ibiza from the front, but the side and rear views are much better: taut, clean surfaces, and a whiff of Alfa around the boot. The new architecture has freed up a lot of space: there's a significant increase in room inside, especially in the rear.
Engines include petrol and diesel choices from 1.2 to 2.0-litres, all with direct injection and turbocharging. Designed for low internal friction and fast warm-up, fuel  consumption has reduced by 22% compared to the predecessors.
The vital engine for the fleet market, 1.6 TDI, generates 103hp and in the Ecomotive version with Start/Stop system and brake energy recuperation, returns 3.8l/100km and emits 99g/km CO2. The extensively re-engineered 2.0 TDI returns 4.0l/100km in the Ecomotive version, and develops 148hp.
SEAT says it will rapidly expand the engine line-up. Two versions of the 1.2 TSI will launch in early 2013 with 85hp and 105hp, followed by a 120hp 1.4TSI and 180hp 1.8 TSI. The diesel line-up will be augmented by an 90hp 1.6 TDI and range-topping 181hp 2.0 TDI.
Depending on the engine, transmission options range from five and six-speed manual gearboxes or the renowned six and seven-speed DSG dual-clutch gearboxes.
Higher end cars with 150hp or more gain independent rear suspension, while those at the more parsimonious end of the spectrum have a torsion-beam at the back, keeping costs and weight down.
That means the 1.4 TSI and 1.6 TDI we drove both had the cheaper system, but it doesn't really show. It reacts with a hardish stomp over sudden bumps, but across most surfaces when given more time to absorb changes it is compliant enough, while body control is decently well-contained.
The diesel is a bit gruff at low revs and the TSI is the more characterful motor. Both are pretty sprightly though – certainly a company car driver would not feel short changed.
Inside, generally the materials are solid where it matters, and there is plenty of  useful kit available: air conditioning, twin halogen headlamps with electric adjustment, an mp3 compatible six-speaker CD player, integrated hands-free phone operation with Bluetooth audio streaming, and a colour touchscreen interface.
Price wise, it is significantly cheaper than a Golf, with the 1.6 TDI up to €2,400 cheaper, and the TSI about €1,200 less, while entry-level prices start from around €18,852. First deliveries are due in March 2013.
If the Leon gains the same acceptance on the used market as the first generation did, then SEAT will really have a trusted, admired and liked family hatchback.
Verdict:
Roomier, more efficient, classier, better to drive and with likely low running costs, the new Leon is an excellent addition to the SEAT range, and should prove popular with fleets.